Khang and I decided to celebrate our anniversary by doing something adventurous! So, after some time surfing the net of to-do's, we decided on going to Mountain Springs Lodge near Leavenworth, WA and doing the Snowmobile Adventure Package. Even though it sounded a bit steep in price at the beginning, we tacked on an additional $50 for a bigger room (Aspenglow), which included a jacuzzi inside, and a hot tub right outside the entrance door. The price was pretty darn steep when you're only doing an overnight, but when you divide the price by 2, and remember everything that you're getting in the package, it ain't so bad!..sorta haha (I found it totally worth it)
Day 1
On our journey to Mountain Springs Lodge…the roads were ICY….we even ended up sliding ALLL over the roads and hitting the median hella hard at one point..but couldn't stop to take a look at the bumper for awhile because there was no shoulder and had no urge to be a "road obstruction" and get in another accident. Thankfully, Khang drove, and by the time we pulled to the side of the road, we saw that Khang's truck was a beast…barely any damage besides a little dent in his bumper! my car would probably be eaten alive….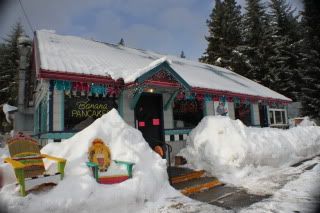 Anyway! after knowing that Khang's truck was ok, we remembered that we were starving! and on our way the the lodge, we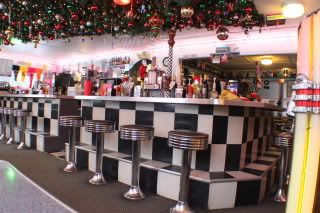 stopped by 59er Diner, probably one of the best pit-stops we've EVER had. The service was so peppy, fun, and the food was awesome. By the time we left with our full-tummies, we were determined to return since we had such a good time. So seriously folks..if you EVER pass this place or are in the area..you GOTTA pull in. I seriously love it.
By the time we got to the Lodge, it was 3pm…check in time! Everything went smoothly and when we got our room, we were blown away about how..EPIC it was. Giant bed, fireplace, hot tub outside, and jacuzzi inside….See for yourself……….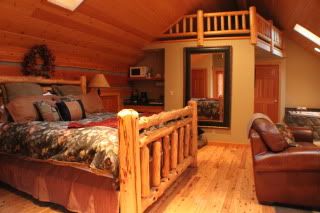 Around 4pm, we headed out and went to check in for our snowmobile tour. They gave us helmets that need to be DOT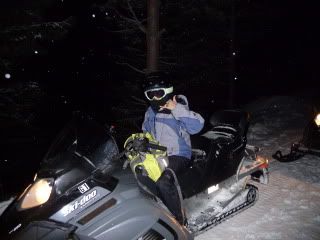 approved, and after a run through on how to work the beast, Khang, me, another couple, and the tour guide (named June) were off! the snowmobiles were awesome machines. A little scary at first, but once you get into the flow of it, it's a giant adventure. June memorized all 120+ miles of the trail, and we took on 20 some miles of it in the night (about 1.5-2hr worth), as our headlights lit up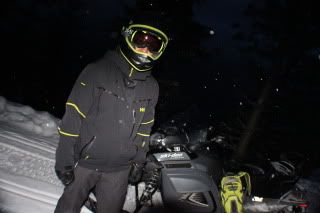 the trail…sooo gorgeous. For those uncomfortable with extreme sports, this MIGHT not be for you..although the ride is pretty easy, there are a lot of turns, cliffs, and powder to get stuck in..and unless you do as June (or any other tour guide does), you're gonna have some trouble if you don't know how to shift your body weight when turning. Oh..and it's surprisingly a work out on your upper body! Overall.. LOVED it. Definitely one of the most fun experiences I've ever had. And to top it off….the package included an awesome,  prime rib and salmon dinner…Mmmm goodness
Everything about this short trip was amazing! The staff is SOooOoo kind..it makes me understand why people move away from the city…and after meeting people from Mountain Springs Lodge and 59er Diner…I started rethinking my retirement lol
Day 2
After getting breakfast delivered to our door, we cleaned up and checked out of the awesome lodge and said our good byes.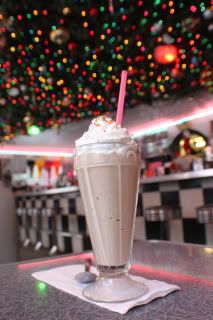 As mentioned earlier..we were determined to head back to 59er Diner before leaving the small town. Well…with us still itching from how fun snowmobiling was, we asked the waitress at 59er Diner what was available around the area, and she gave us a ton of insight and personal preferences =D In the end, we chose to rent snowmobiles from 59er Diner since her first recommendation to dog sled option was full for the day….Oh and yup!..59er Diner isn't just a 50′s lookin diner with awesome, down to earth staff, and diner food, but it also rents out cozy lodges and snowmobiles =D I definitely want to go back…
Anyway…owners had us sign our life away on paper, and then we were given 2 snowmobiles to ride on from 11am-5pm.The trail definitely doesn't look like much on the map..but since you have no tour guide and there aren't limitations (besides staying within snowmobile boundaries), you get a great sense of freedom and adventure as you get to explore the terrain! oh..and the snowmobiles aren't THAT cool and new looking..but it's totally deceiving..They're fast machines with power!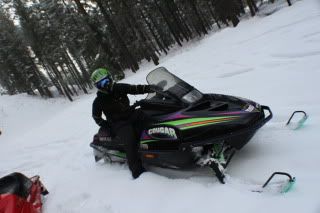 Khang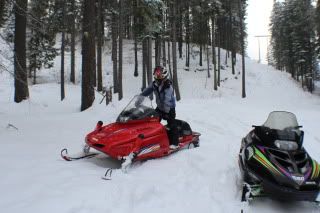 me!
Fair warning though..although I LOVED the idea that you can have all that freedom as a new snowmobile rider…this is definitely NOT for everyone. It's VERY easy to get stuck or roll your vehicle over! Khang got stuck in powder 3x and every time was like TORTURE getting it out since we didn't really know the best method to do so and the snowmobiles are wicked heavy. If you're experienced..getting out of powder is a breeze..but for those noobs out there like us…good friggin luck! Luckily..Khang is a strong dude…otherwise..I'm not sure what we would have done. Oh..and after all the trouble of getting stuck in powder…Khang changed his mind of ever wanting a snowmobile of his own lol
So in the end..if you want to snowmobile in Washington:
1) Check out Mountain Springs Lodge if you want an awesome stay and safe- tour..although, it's definitely on the pricey end
2) Check out 59er Diner if you're in the area! whether it's because you're hungry, want to meet the staff, want to snowmobile, or have a cheap place to stay near Steven's Pass or Leavenworth. Renting Snowmobiles here is an awesome way to figure out if snowmobiling is really for you since you're on your own with all the freedom of the world…although, you might deter from the idea when you head out on your own to trails with cliffs or get stuck with no pro to help you out..haha